(sequel to "THE PLAYGROUND")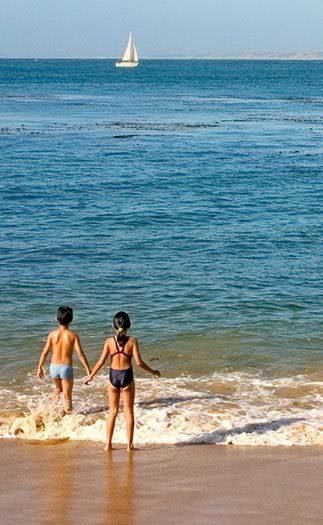 .....Then one day, the little boy was playing in the ocean. From the time his family arrived, 'til they called him in to go home, he loved being in the cool, undulating waters of the vast ocean. On this day, as it happens, the little girl's family brought her out to the beach as well. Walking along the shoreline, she spotted the little boy just as he raised his eyes and saw her standing there. They smiled at each other.
He motioned for her to come in and join him there. There, in the vast, endless sea, so full of possibilities, so full of unknowns, she smiled and clutched her hands to her mouth and carefully stepped forward as a wave lapped up at her foot. She SCREAMED and laughed and went running back to the dry sand. "Come on!" he said, and they smiled once again as she inched forward, yet once again, as those waters found her body, so close to diving in and joining the little boy, she retreated.
Back at home, she went out into her back yard and played in the family's kiddie pool until dinner. As she splashed and played with her toys in the pool, she felt safe. But she thought about the little boy. And she thought about what it would feel like to swim in the infinite ocean. And to be with him there. The fear and excitement were almost too much to bear, and she dreamt about being a fish in the big waters of the ocean that night, swimming freely through the sea, first by herself, and then she noticed a another fish along side her. Swimming in perfect harmony with her. As she dove, so did he. As she darted and broke the surface, so did he. They were a perfect match.
The next day was Sunday, and she begged her parents to go back to the ocean, but they had other plans. A little later, she received a call from her girlfriend, whose family was going to the beach and invited her. As soon as she got there, she looked for the little boy, but he was nowhere to be found. She wanted so much to go swimming in the ocean for the first time, but she wanted to do it with him. How could she take such a huge step by herself? But she turned and looked directly out over the waters, and realized she could not return home that night without having taken the plunge.
.. With a determination she'd never known, she bolted for the water. As she reached the shore, without ever slowing down, she LEAPED FORWARD and with hands outstretched, dove in head-first to the energizing, cool water. She was surprised at how comfortable she was there, in the big, blue, ocean. She splashed around, exploring a bit, when all of a sudden, she looked up, and saw the little boy, running full-speed towards her, just as she had dove in minutes before. They were speechless with joy. And together they played all afternoon. And from that day forward, they knew they could go anywhere together. They had brought each other to a place that was bigger than them. They had touched a timeless, infinite place together. And they were no longer afraid.